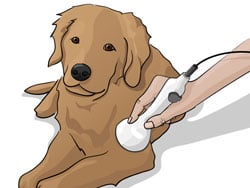 Veterinary laser therapy is an innovative treatment that has gained popularity in recent years as veterinarians discover its benefits for pets. Used similarly to acupuncture, massage therapy, and other alternative therapies, laser treatment can be used in conjunction with or in place of medication to manage pain, inflammation, and wound healing.
Cold laser therapy is a noninvasive procedure that uses light to stimulate cell regeneration and increase blood circulation.
Lasers are nothing more than a beam of light that travels at a certain frequency that allows the laser to generate heat and penetrate tissue. Some Class IV or cold lasers are programmable to a range of frequencies to treat many different types of problems in dogs and cats.
Who can benefit from laser therapy?
Laser therapy is used for many veterinary medical conditions, including:
Chronic arthritis
Surgical incisions
Tendon and ligament injuries
Traumatic injuries